My 2003 was pretty good.
Keeping with my 2003 theme of "the digital camera is your friend", here's my little project enumerating the people, things, and cats that helped make my year pretty darned happy.
click for the big collage: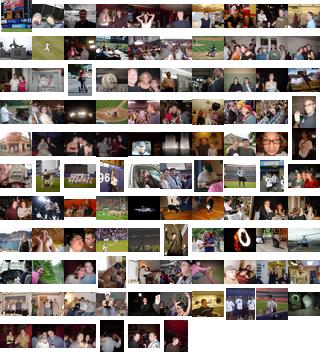 http://www.ryan.net/misc/2003-friends/
If you're a "friend of ryan" (F.O.R.), and I missed you, it's not intentional... as you'll see, I'm blessed with the company of good folks, and I'm bound to have missed one or two. If I didn't have a picture of you, or you got overlooked, please email me! This collection is for me as well as my friends, and I'd love to add your picture to look back at when I re-open this timecapsule in 2103 or whatever.
While I'm at it, if anyone reading this (who knows me, and therefore my easily remembered email address) thinks I might not have their current email/phone/address, please send that along, too, since one of my new-year's resolutions is to clean up my address book.
Have a safe and rockin' new years!
Posted by ryan at December 31, 2003 04:53 PM